Profile Dragon System Guide


This page covers all rules and guides for the profile dragon system.

Please read this guide carefully
Table of Contents
Eggs / Hatching Eggs
You can purchase dragon eggs from the Trading Post for 500 gold each.








After the egg is purchased from the store, it is randomly selected out of the eggs listed above, including what it hatches into-- breed and type. This cannot be chosen. It is always random.

The egg then starts its incubation process and this can take between

2-5

days.




Random Hatch Rates
| Rarity | Common | Uncommon | Rare | Very Rare | Legendary |
| --- | --- | --- | --- | --- | --- |
| Rate | 60% | 18% | 10% | 5% | 3% |
Dragon Stats
All the dragons have their very own one of the twelve types. These types basically provide the dragon's element and what powers they possess.
Dragon Types
| | | | | | |
| --- | --- | --- | --- | --- | --- |
| Lightning | Fire/Magma | Ice | Water | Toxic | Blood |
Basic Stats
1. Name of the dragon




You can name your dragon whatever you like.




2. Dragon image




Simply the image of the dragon. This can't be changed.




3. Dragon's rarity, type, and species


- Rarity
- Type
- Species


4. Wellness




The overall health of the dragon.




5. Happiness




This shows how happy the dragon is to their owner.




6. Hunger




This shows how hungry the dragon is.




7. Strength




The overall strength of the dragon.



Health & Wellness

90% - 100% Very Healthy


At this level, the dragon is very healthy and has zero problems. This is the most desired level of health.

75% - 89% Healthy


This level the dragon is healthy and shouldn't have to worry too much.

50% - 74% Fairly Healthy


When the dragon reaches this level, their health is fair and should be watched carefully. They are more prone to illnesses.

11% - 49% Weak


At this level, the dragon is considered weak and likely will fall into illness if not treated with some medicine. The dragon will also be lethargic and refuse to do many tasks.


CAN NOT GO ON QUESTS WHEN ON THIS LEVEL AND BELOW

0% - 10% Very Sick


Hopefully, the dragon doesn't reach this level but sometimes it does happen. If it does, they are very sick and will to have immediate attention. Continuing to ignore their health and the dragon will likely die from a deadly illness.

Happiness

90% - 100% Very Happy


This is the level you want your dragon to be at most of the time. This means they are very happy and love you as their owner. Benefits are given if the dragon remains on this level for a long duration.

75% - 89% Happy


At this level, the dragon is happy and nothing to worry about.

50% - 74% Fairly Content


This is the level of happiness where the dragon is neither happy or sad; they are average. It should be noted, however, something will be needed later on to make the dragon happy again.

11% - 49% Not Happy


Once the dragon reaches this level, there should be a concern since the dragon isn't happy about something. Usually, when they are on this level, they aren't in the mood to do much of anything with their owner.


CAN NOT GO EXPLORING WHEN ON THIS LEVEL AND BELOW

0% - 10% Very Upset


The dragon will only reach this level if their owner has ignored them for a long time or simply abandoned them. This is when the dragon will likely fly away and never return.

Hunger

90% - 100% Satisfied


At this level, the dragon is simply satisfied and doesn't need to be fed anything.

75% - 89% Slightly Hungry


The dragon is a little hungry and will eat at this level but it's nothing to be concerned about.

50% - 74% Hungry


At this level, the dragon is more hungry and would preferably eat before getting very hungry.

11% - 49% Very Hungry


This is the level the dragon now is very hungry and desperately needs something to eat. Because they are very hungry, they will refuse to do much of anything.


CAN NOT GO EXPLORING OR ON QUESTS WHEN ON THIS LEVEL AND BELOW

0% - 10% Starving


If the dragon ever reaches this level, it won't be long before they start to die off from starving.

Strength

0% - 100% Strength


The strength of the dragon is only used for when going on quests.
The Dragon's Den
The Dragon's Den is the sole place you will be when interacting with your dragon to feed, play, go on quests, explore, and even battle other dragons. The following image will tell you how and what each thing does.
(Click the image to enlarge)
1.)
The dragon's name will appear here.
2.)
The dragon's image will always appear here or slightly to the right or left if being viewed on smaller screens.
3.)
This is the background of the dragon's den. By default, everyone has the same for their dragon. However, a future update will allow you to choose what background you would like to have.
4.)
The message log displays various messages while interacting with the dragon, including how they feel, if they're hungry, or simply acknowledging your presence in their den.
5.)
Whenever there is something very important to inform you about the dragon, they will appear in the critical alerts. The messages usually reflect the dragon's stats.
6.)
These simply represent the dragon's current stats. Strength isn't displayed here.
7.)
You click this button to feed the dragon with either of the four items: chicken, pig, horse, or cow.
8.)
You can attempt to play with the dragon in order to slightly increase their happiness by either petting them or going on a flight, but only if they are in the mood for it.
9.)
You click this button to go exploring with your dragon.
10.)
Clicking this button will send your dragon to challenge another for sheer strength and rewards.
11.)
If you are feeling adventurous, you can click this button to search for any active quests to go on.
12.)
Simply click this button to leave the dragon's den and return to the homepage.
13.)
This table displays your current inventory. You are only allowed to carry five items at a time and a quantity of 10.
14.)
This table shows how much food you have currently.
Feeding
This part of the guide will teach you all there is need to know about feeding the dragon.
To start feeding your dragon, you have to click the button (#7). Be sure you have food in your inventory first.
These buttons will show up.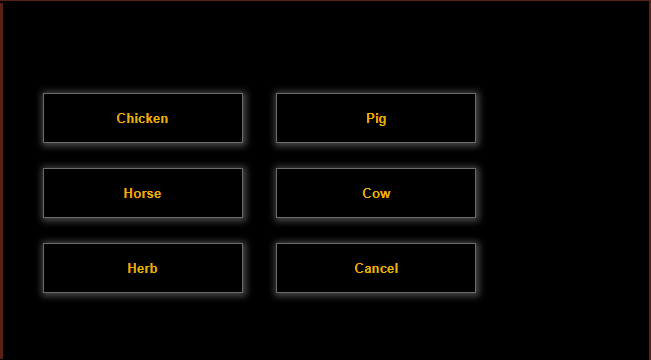 Select any of the buttons to feed the dragon or hit "Cancel" to simply return.
These are your options:
- Chicken
- Pig
- Horse
- Cow
- Herb

After you selected what food to feed the dragon, It will take time for the dragon to eat the meal. Their hunger will increase over time.

Exploring
You can choose to explore around with your dragon and attempt to find some goodies. You simply do this by clicking the explore button (#9). After clicking the button, you will discover three of the following items.
YOU CAN ONLY DO THIS EVERY 48 HOURS
Quests
Another great feature of this system is the ability to go on quests with your dragon, mainly adventuring ones, or testing their stats to a challenge. You can attempt this by clicking on the quest button (#11).
Quest Types
There are many types of quests that can be available at any given time.
Type
Description
Stats

These types of quests are mainly focused on the dragon's stats.


- Maintaing a certain level before a set deadline
- Rate of stat depletion increases or decreases
- Surviving without a certain stat
- Start at a critical level

Killing

These types of quests are self-explanatory and relate to killing something.


- Kill a certain target

Gathering

These types of quests are focused heavily on gathering or collecting something.


- Collect a certain number of items
- Gather a certain number of items with a deadline

Escort

These types of quests are pretty self-explanatory as well; it's mainly escorting something or someone.


- Escort a target to a set location

Delivery

These types of quests focus on delivering a certain item.


- Delivering one or more items to a certain place

Defending

These types of quests pertain to defending a person or place.


- Protect a place.
- Protect a person.

Profiting

Unlike gathering, these type of quests are focused on gaining certain items and keeping them to show as a trophy.


- Reaching a certain goal in gaining items
- Completing quests

Adventure

These types of quests are usually the longest and sometimes the hardest to complete since they actually involve doing stuff with the dragon in threads.


- Complete a certain task that requires post-by-post play
- Battling many times to reach a certain goal

Explore

These types of quests are kind of like gambling. You explore a certain place and discover what lies within, risking more as you delve deeper inside. Once explored, it will take time for the place to be explored again.


- Explore a certain place

Partnership

Partnership quests are focused on team play and are recommended to be played with more than one dragon. Going solo is an option of course too.


- Team up with another dragon and complete a certain task.

Quest layout
1. Name of the quest




Simply the name of the quest shown.




2. Quest's description




A one-to-two sentence description explaining the quest.




3. List of quest objective(s)




4. Quest difficulty


- Easy
- Medium
- Hard


5. Closing quest popup




Click this button to close the popup and return to the dragon's den page.



After you select the quest you want to do, this will pop up.
1.)
This is where you type out if you would like to accept the chosen quest or not.
These are your options:
- Yes
- No
Please note ONLY ONE quest can be accepted at a time.
2.)
After you typed out "YES" or "NO", click the "OK" button to confirm. The quest will be activated immediately.
Experience Points
As you complete quests, find unique items and take care of your dragon by feeing them, making them happy, and healing them when they're sick, you will gain experience points. Gain enough and your dragon will gain levels, which will allow access to more quests and items.
Experience Points Chart
Level
EXP Required
Earned
2
300
+50 Gems
3
600
+75 Gems
+3 Chickens
4
1,100
+100 Gems
+5 Chickens
5
1,700
+150 Gems
+5 Chickens
+1 Rain Blossom
Unlock stage 2 quests
6
2,300
+200 Gems
+1 Agility Potion
7
4,200
+300 Gems
+1 Horse
+1 Celestial Flower
8
6,000
+400 Gems
+1 Defense Potion
+5 Chickens
9
7,350
+500 Gems
+5 Cows
10
9,930
+1,000 Gems
+3 Healing Potions
+1 Miracle Potion
Unlock stage 3 quests
Experience Points Earned
Amount Earned
Task
+5
- Each time the dragon is fed (+20 max per day)
+10
- Each time the dragon gains happiness
+50
- Healing the dragon when sick
+100
- Completing a level 1 quest
+200
- Completing a level 2 quest
- Completing a level 1 adventure quest
- Winning a battle
+300
- Completing a level 3+ quest
- Completing a level 1 partnership quest (team)
+400
- Completing a level 2+ adventure quest
+600
- Winning a battle against a rarity 1 stage higher
+1,000
- Winning a battle against a legendary (vs non-legendary)